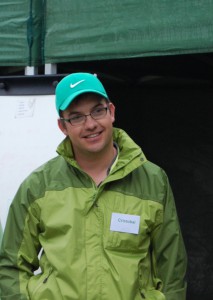 This is a guest post by Cristobal Alonso, an international entrepreneur, executive, advisor and mentor, among many other things. He wrote this post about his experience mentoring and doing business in Lithuania for Startup Highway, a European startup accelerator in Vilnius. Did you know you shouldn't swear in business meetings in Lithuania?  
During my visit at StartupHighway (SH) I've been on a mission to fire up their brain, you can call it mentoring, and to put a foot on Vilnius ground once again. Must say it felt good. Anyhow, after mentoring sessions my job wasn't done as I was asked to write a guest post comparing Western Europe/ Anglo-Saxon with Lithuania in relation to business culture, negotiation skills or even what was strange for me once I started working with Lithuanians.
I would like to stress that my disclaimer is based on personal experience thus others may have a different one because of two reasons: different background and different people they've been dealing with. Last but not least I don't speak the language and I conduct all my business in English. Certainly the language has an impact on how people conduct business therefore it may be different once you communicate in Lithuanian. Anyhow after 3 years in Baltics (mainly Lithuania and Latvia) I believe I could share a couple of worth-knowing things.
Usually when making comparisons people tend to focus on the negative side of it. So I have tried to break my comparison into three sections: the good, the different and the areas for improvement .

The good
Somehow there is a misleading belief that Lithuanians are not friendly. I always found Lithuanians extremely welcoming, friendly and good natured. I have had lots of nice people crossing my way, lots of interesting dinners and chats over wine and if you broke the ice, it was reciprocated.
On the professional level, Lithuanians are dedicated people. For sure they want to keep a good work balance, but if you give them a deadline and they agree on it, they will always deliver and work from home. It is not somehow obvious but (except maybe in basketball as players or fans) I find Lithuanians quite competitive. Once you give them something they consider as a challenge (individually or as a team) they will chase it and want it to win.
While having conversations with some of my friends here, I got an explanation for such Lithuanian behavior. As you know Lithuanians were under pressure from the Soviets for a long time, thus I believe when people are given a chance, they always try to prove and show than they can do better.
The differences
First, I always find it very difficult to have a meeting here (I'm referring to Lithuania and also to Latvia) because the level of feedback during the meetings is almost nonexistent. Mainly I refer to body language.
I call Lithuanians the greatest poker players in the world as from their expression (face & body) you don't know if they are agreeing, disagreeing or for that matter thinking you are full of shit. In terms of verbal communication / feedback, I'm certain that people don't want to engage in open challenges during a meeting. Usually they prefer to collect the facts and then after making the position in their mind to get back to you in written form. Anyhow I'm not certain if this business dealing approach is applicable to people speaking Lithuanian.
Second, I find most Lithuanians extremely polite in the way they speak and conduct their business. In general I curse a lot and I use all types of expressions (English, Spanish and Portuguese). This is not something one would find in Lithuania simply because it takes people a bit out of their comfort zone. So, dear business fellows, it might be risky to start swearing during business meetings as one can lose face in their eyes.
The areas for improvement
Last but not least, I find that some people (this applies to Latvians also) are lacking the ability to think big, to believe in scaling ideas / enterprises. This is related to a problem that most Lithuanians focus on the short term. I am not certain where it comes from, maybe because of the history, economic crisis or cultural heritage but it is a clear limitation. Just to give you an example relating to the service industry:
A typical night in Vilnius – you go to a restaurant. The ambiance is nice and the restaurant is half full. You order and after waiting half an hour, you start wondering if something is wrong (usually waiters are "hiding" at this moment). So you call the waiter and ask "is there a problem with the food?" The usual answer: "well, we have one cook only and there are many orders, but yours should arrive shortly." After waiting another 15 minutes, finally you are served.
If you are in the service industry you know by now that this customer is pissed off. So, story#1:
You don't want him to leave the restaurant;
You don't want him to never come back;
You don't want him to start talking about how shitty your place is.
Story#2: You need to make up to the customers.
Well I am still waiting for this to happen to me at least once. For example, it could be an invitation to taste a wine or dessert on the house or a voucher for something free next time you visit the place (please note the example could apply when the wrong order is brought to you or other similar cases). Nooooo, they are just thinking in the short term – I can't lose money on this customer during tonight's dinner. The reality is – you lose money for the rest of this restaurant's life because of focusing on the short term.
So my advice would be – plan long term and invest in relationship development (don't try to screw the other party on this negotiation because you will face them again in the future), be tough, but explain why and provide good feedback, and always think about scale.
Cheers !