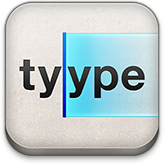 Apple fanboys, admit it, even you despair when having to manipulate a block of text on an iPhone or an iPad. Yes, Apple has been improving this area over the years, but not fast enough – I still remember the hype and excitement when they introduced the copy and paste function at some point. Fortunately, the beauty of platforms lies in the fact that independent developers can bring additional innovation and improvements when the mothership has other priorities.
Just launched this week, Tyype HD, described as a "revolutionary texture-based text editor for the ipad" by its makers, caught my attention for attempting to fix the iOS text editing headaches. Move through your text with one finger, start highlighting with two, pinch to make it bigger or smaller – easy breezy.
Tyype HD was developed by Appvetica, a young Warsaw-based app development studio, run and founded by Peter Tuszynski (@dusker), Michael Tuszynski (@srgtuszy), and Tom Zajac (@tomzadesign). The founder trio worked together on various projects over the years in different companies and as freelancers, and eventually came up with the idea to work on their own as a team. In Peter Tuszynski's words, the idea was that this "would basically mean us sitting in our office, coming up with creative app ideas, building them and finally throwing them against the wall and seeing which one will stick."
Chris Kowalczyk (@kkowalcz), partner at HardGamma Ventures and the founder of GammaRebels, offered them seed funding and the idea picked up on speed. Appvetica's first app was AppMotion, a framework for iOS developers that allows them to incorporate Nintendo Wii-like functionality into their own apps or games. They ended up launching this app at The Next Web 2012 as a Startup Rally Finalist.
Peter Tuszynski told me that the current version of Tyype HD is just at the beginning of its roadmap.
"We rushed the app to market, because we've been extremely curious about people's response, so we intentionally left out some of the features but priced the app really, really low. So now, we're basically doing this crazy sale, where we're encouraging people to buy the app now, and get all the future updates for free, because the price will go up with every significant update we'll ship. You can see the small roadmap on the app's website."
The app is available in the Apple Store for the beautiful early adopter price of $0,99 (or €0,79).  Yes, this has been a total fan piece. Sure, I could make up a critical paragraph with a vague worry about the business model, market size, or "scaling".  But here's the thing – it's a cool app and just go get it.
Demo video by Appvetica: