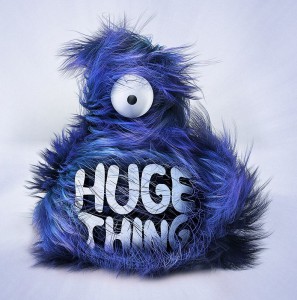 You have been hearing about the growing startup communities in Warsaw and Krakow, but the city of Poznań is also claiming a spot in the Polish technology world. It has a mix of factors that have the potential to foster a new generation of Polish startups with a global outlook, which is the goal of Huge Thing, a newly launched startup incubator in Poznań.
This bustling old city is the fifth largest in Poland with a population of over 500.000, home to the Polish headquarters of many international corporations as well as home-grown companies, such as Allegro, a hugely successful auction site with properties all around CEE. The several large universities in the city produce many engineering graduates and it even has a design institute. Most promisingly, it's only a bit over 2 hours away from Berlin by train or on a newly-rebuilt highway.
I observed the advantages of this proximity to Berlin personally when I met Arkadiusz Hajduk (@ahajduk) and Bartek Gola (@golabartek) from SpeedUp, a VC firm from Poznań, over coffee in Berlin. They were in town meeting with German VCs as part of their efforts to help their portfolio companies grow (more on that later). It's easy for them to show up in Berlin for business meetings any time, and they are leveraging this advantage. Shortly after this meeting, I learned that Arkadiusz Hajduk was launching Huge Thing with support from SpeedUp and LMS Invest, and was invited to join as a mentor. Huge Thing recruited a handful of mentors of various nationalities from Germany and that's exciting. It's great to see bridges being built between startup communities in these two cities, in no small part thanks to the networking efforts of Poznan VCs.
This past weekend I went to Poznan for the mentor kick-off and to meet the teams that were selected for the first batch. They will participate in the program for 6 months, undergoing intensive mentoring during the first half, and acceleration boosted by angel investments during the second half. It's too early to talk about the ideas presented at the kick-off, but many of them sounded promising. Even more importantly, the participants seem to be a talented bunch with great personalities and leadership potential. You'll be learning more about them here in the future.