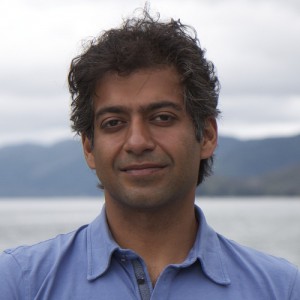 You might remember when Matija Kopic, the CEO of Farmeron, praised how useful a site called AngelList was to his fundraising efforts and implored "all European startups" to create a profile. He wasn't exaggerating. All it takes is a few minutes of browsing AngelList to realize that almost every investor you've ever wanted to meet is on it. I talked to Naval Ravikant, its co-founder and CEO, about his advice for European entrepreneurs, about international venture investments, and about exciting startups.
AngelList launched in February 2010 and it has seen impressive growth since then. At the moment, it counts about 3200 approved investors, and more than 20,000 company profiles. In 2011, several hundred companies reported that they found funding through AngelList. You can browse many of them in the AngelList Yearbook, which just launched. Naval Ravikant (@naval) and his co-founder Babak Nivi (@nivi) are also nominated for the Crunchies award in the Angel category.
ZF: What's your elevator pitch?
NR: We are bringing the entire Silicon Valley ecosystem online. What makes Silicon Valley great is the proximity between all the entrepreneurs, the companies, the investors, the lawyers, the accountants, the advisors, etc., and we're making all that available online and transparent. We started by creating this free service to connect entrepreneurs to investors, currently about half of it in Silicon Valley, a quarter in New York, and a quarter spread around the world, and we're continuing to grow it. It's turning into a social network for startups, investors, and talent (people who are seeking jobs at early stage startups).
Why and how should entrepreneurs use AngelList?
We designed the AngelList profiles in a way that really distills the key information that investors want to see. Normally, people do 10-20 slide decks that are very complicated, everyone has a different style, and everyone puts in different information, when, really, what the investors care about are just four things: They want to know who the team is. They want to know what the product is and see the demo. They want to see if the company has any social proof, such as advisors or investors. And they want to see if the product has any customers, if it has traction. So we designed a one-page profile that lets you capture all that information, distill it down to simple, bite-sized pieces, and then we format it into a nice profile, as well as send it to investors by email, if we think they may be interested. Investors express their preferences: these are the people I trust (investors, or even entrepreneurs); these are the markets I'm interested in; these are the locations I want to invest in; and these are the sizes of investments that I'd like to do. And then we send them emails as well as personalize the website so they get visibility into matching startups.

Do you have any tips on how to best fill out a startup profile? 
There's no rocket science to it. The biggest problem with startup profiles is that most people are lazy. They just say "Hey, I'm the founder of this company called My Company, and this is what we're doing, come fund me," and they don't put in much detail. You have to tell the investors why they should be excited, why you stand out from the noise. In Farmeron's case, they stood out because they were doing something very unique; you don't see a lot of companies active in the farming space. They clearly had the expertise – they were from farming background, but they were still good coders and entrepreneurs. They put up some credentials from the work they had done, which gave them some credibility. They had lined up some early customers, and they also had a good demo of the product. They filled up all the pieces and they had something unique, and I think that helped. And they had to work at it, because when they first came to AngelList, they were in Croatia and it was actually pretty hard for them to get noticed. First, they got noticed by some European investors. They ended up at Seedcamp. There, they arranged for a trip to the US, then we distributed them to US investors, and now they have this all-star cast of investors.
How can a European startup that doesn't necessarily have many connections on AngelList find investors and advisors?
First of all, it doesn't have to be someone in Silicon Valley. If you can find anyone on AngelList that you know well, who has some followers, then that helps. We have a pretty international community now. It's still pretty heavily focused in Silicon Valley, but there are elements of it around the world. So for example, if you're in Croatia, you should probably track down Matija, or Marko, his cofounder. Another approach is, if you have a well filled out solid profile, you've launched your product, and you have a little bit of traction, we will read your profile. It's not going to disappear. We get a lot of companies applying every day, dozens, sometimes even a hundred or more, and we don't look at the ones that are very incomplete, or badly filled out, so those do get lost, but if you filled it out, even if you're not connected to anyone, we will look at it. If there is something that stands out about it, someone will notice and contact you.
Do you have any advice that is specific to European companies?
With European startups, the bar is a little bit higher, because there are fewer investors. You basically need more traction. Obviously, being in London helps your chances because there are more investors in the UK, but even if you're not based in London, you can arrange for fundraising trips. So, maybe spend a month in London, spend a month in Silicon Valley, a month in New York, build up relationships. If you have a great company, and you tell us that you're coming to Silicon Valley, or New York, we will mark that on your profile and distribute it appropriately. We can help you line up those meetings before you get here. But keep in mind, the bar is high. If an investor is not in your market, there is a higher bar. The good news is, I'm familiar with at least 3 or 4 funds now that are starting up, whose goal is exclusively to invest in international startups.
Do you see investments across different geographies happen often? What do you think about this space?
It does happen. Rodolfo Rosini from Story Bricks just put up a post called the Age of AngelList. He is a UK-based entrepreneur, who is actually pretty well known, and he spent a lot of time trying to raise money in the UK and had a hard time. Then he used AngelList and got it done. Similarly, there was another guy who had a company in Switzerland, NewsCred, and we got him introductions to investors in New York when he moved there. Taulia is a French company originally that got funded by Matrix and Trinity Ventures through AngelList. But these are exceptions.
If you put up a sign that basically says "free money", you get a lot of spam. Out of every 100 companies that apply to AngelList, about 80 are unfundable by anyone. And then out of the 20, probably 15 are too early, or there is too much competition in the space, or they are just not impressive enough. So only about 5% are fundable to begin with. And then out of that 5, maybe 2 or 3 will get funded. And these are the odds for Silicon Valley as a whole, not even AngelList. And if you're a European company, I would say it's one out of a 100. The reason for that is that you just have to get further before you raise money. You have to launch your product, you have to show more traction. Even if you're in London, there are only about three funds out there, Index, Balderton, and Accel. It's very hard to get noticed and stand out when there are so few investors.
Do the VCs perceive international investing as a challenge?
The VCs do perceive challenges to this unless they are set up for it. There are two strategies for dealing with it: One, a company can set up a branch office in New York or Silicon Valley. And I think New York is very viable now, which is a good development for the community. Two, there are VCs who actually are comfortable operating internationally. Accel is one example, General Catalyst is another. There are earlier stage funds, too, like Kima Ventures, which is based out of Israel, but does a ton of investing all over the world. There are individual investors, like Fabrice Grinda, and David Weekly started a Mexican fund called mexican.vc. So there are specific investors who invest internationally. Dave McClure is a good example. He organizes these "Geeks on a Plane" trips and travels around the world. I think that a lot of investors are realizing that there are more good investment opportunities outside of the valley than there are inside of the valley, Aydin Senkut from Felicis Ventures was telling me that his best investment is a company called Rovio (who created Angry Birds). So it's definitely happening. It's slower than we would like but it is finally happening.
Do you think there's a bright future ahead?
I think there will be a lot more. I see great companies coming out of Estonia all the time because of the Skype alumni there, and of course there is Atomico. So there are more venture funds popping up, more angels popping up, Rodolfo in his article mentions there is a guy, Anil Hansjee, former head of M&A at Google Europe, who is setting up a purely European fund. A lot of funds are popping up, and within 2-3 years you will see a very different environment.
What are some exciting startups you've come across on AngelList?
Farmeron was actually one of my favorites, because it's so unique, and there's such a big market for it. There's a different one every time. I also like the ones that use smartphone sensors in the real world to do things that you couldn't do otherwise. For example, there are two air guitar companies that use the iPhone to power a fake air guitar. When you start learning how to play the guitar, they make you sound really good, and as you get better and better, it helps you less and less, so you never feel demoralized. There are companies that are building better Kinect sensors using standard cameras, there are people who are building add-ons that turn a phone into a medical diagnostic device. I tend to like these heavily technology-oriented companies that do cool things.
What do you wish there was more of?
I wish there was more deep technology. I wish there were people building difficult hardware, software, or infrastructure. Those kinds of things. In fact, there was one the other day that was called Fabric Engine: they are taking node.js and speeding it up by a factor of 10, or 30. That's a big deal.
What are your final words of advice to aspiring entrepreneurs?
Find a great cofounder, pick something to work on that you really care about, because it's going to be a lot harder and longer than you think, and surround yourself with the best people. Great people and something you care about – that's what it boils down to.