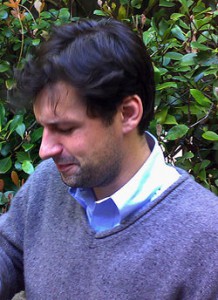 When I got a support email from Pinboard, an alternative to the bookmarking service Delicious, and one of my favorite tools, and realized that the founder was Polish, I thought it would be cool to interview him. His name is Maciej Cegłowski (@baconmeteor), he lives in San Francisco, and he founded Pinboard (@Pinboard) in 2009 as a personal project that would address his frustrations with Delicious. The service became popular when it seemed like Delicious might get shut down, and today it has over 20 thousand active users. However, it is still a one-man operation with no external funding.
What's your secret to building such a loved service as a side project? And what are your plans for it next?
I really have no idea what I'm doing, so I feel reluctant to give advice. The one thing I'm sure about is that it's important to build something you use heavily yourself, both to stay motivated and to keep a clear idea in your mind of what belongs in the product. Many of your users will have excellent ideas, and part of your job is to figure out which ones to say no to, which is not easy.
Most of my work on Pinboard right now is behind the scenes, making sure that the site is stable, fixing bugs, and automating as much of it as I can to free up my time for development. When I go back into development mode, I will be improving the archiving feature, adding support for people who want to bookmark in small groups, and making it easier to manage really big bookmark collections.
Of course, at this stage most of the work in a product is fixing a thousand little bugs and inconsistencies. I'm fortunate to have lots of users to help me find that stuff.
What is your connection to Poland? Do you visit? Miss it? 
I was born there and still retain Polish citizenship.  My father and cousins still live in Warsaw. I've lived there for a few months at a time, and used to go back to visit fairly regularly, though not as often now as in the past. My feelings about Poland are somewhat mixed; I find the incredible pace of change since the 90′s disorienting and the politics frankly insane. As a non-Catholic, I don't feel particularly welcome in the culture. But home is like family, you love it no matter what, and it's refreshing to go somewhere where people find it easy to pronounce my name…
What is your advice to aspiring entrepreneurs in central and eastern Europe about building a successful product?
I built most of Pinboard in Botosani, Romania, a small city in the middle of nowhere. I think the biggest advantage to working in Eastern Europe is that you can keep your costs very low and still have access to superlative programming talent. Being near Silicon Valley comes with many distractions. It's easy here to waste a lot of time fundraising and worrying about fundraising, as well as trying to compare yourself against a million competing startups. It's also extremely expensive to try to live and hire here, part of the reason everyone is so reliant on venture capital and angel investing. Distance brings perspective, and the beauty of our industry is that you can do great things from practically anywhere.
Many cities in Eastern Europe also have very good Internet connectivity, since the infrastructure there is all fairly new.  I know Romania had a better net connection than I ever got in San Francisco.
My advice to entrepreneurs would be not to feel intimidated by Silicon Valley, and to think twice before relocating to a more 'central' location.  At this point you can live very comfortably by selling to a user base in the U.S. and Western Europe, so bootstrapping is a particularly good idea for anyone east of the Oder.
I'm happy to correspond with any entrepreneurs in that part of the world who would like to contact me directly.